Andrew Leaver
Andy was born at home in Bushey on 26th January 1963, on what was the coldest winters for more than 200 years, with blizzards, snow drifts, blocks of ice, and temperatures lower than -20 °C.
He attended Merry Hill Infants School, then Ashfield Primary School, before moving on to Bushey Meads School in 1974.
Andy had a passion for music, and through the 70's built an eclectic collection of which included the likes of Chic, Talking Heads, early B52's, Bowie, Roxy Music and a whole bunch of Reggae albums including the likes of Steel Pulse, Black Uhuru and Gregory Issacs. I have the lot in my collection today.
He learnt to play the acoustic guitar, taking a number of lessons, but nothing formal. Not being an academic type, but having artistic tendencies, my brother left school after finishing his O-levels and took an apprenticeship as a colour retoucher at Sun Printers in Watford. Our dad, John Leaver, had also been working as a colour retoucher there for many years.
Now with some cash in his pocket, he was able to expand upgraded his sound systems and musical equipment, buying himself and electric guitar an amp and an enormous Marshall speaker. The house became very noisy.
Always keen to make music himself, Andy joined a group of school friends, including Andrew Ridgeley, Paul Ridgeley and George Michael (known only as Yog at the time) and formed a band called the Executive. The Executive camped out in our lounge and dining room regularly and started to build their repertoire, Andy playing the rhythm guitar. My father had a Hammond keyboard and the band used it in the early days to compose some of their work.
Their music was predominantly ska and they eventually recorded a demo tape with and original song called "Rude Boy", an old Andy Williams' classic "Can't Get Used To Losing You" and a ska version of Beethoven's "Für Elise." I can remember them rehearsing Für Elise over and over again.
One balmy evening at out house, the band had set up in our dining room with the french windows open, overlooking a bunch of local friends and neighbours who were sitting on the lawn listening to them rehearse for a gig that they were going to play at St Peters Church hall later in Bushey that week. There was a real buzz and it felt like something great was on the horizon. During that period, I'm sure they wrote an early version of Careless Whisper.
My mum and dad very happy to let the band practice at our house and our neighbours were incredibly patient. These sessions sometimes went on for hours, with a lot of repitition. The best part being towards the end of a session where they would give each song one final play. My mum also used to help ferry their equipment to gigs in our old caramel-coloured Morris 2,200, one time tearing a hole in the back seat, where Yog said "Don't worry Mrs Leaver, we'll buy you a new one when were rich and famous!"
The Executive didn't work out and the group disbanded some time in 1981. Andrew Ridgeley and George formed Wham!, as we all know, and my brother Andy had some ideas of his own. In early 1982, along with Paul Ridgeley, Andy wrote some originals songs and recorded a demo tape. The band was as yet unnamed, but I seem to remember that they had a working title called Memorex.
We'd like to think that Andy was on the brink of something really great, which may be true, but Andy was stopped in his tracks when diagnosed with cancer in August 1982. Andy died at home, at the age of 19, on 23rd December that year. Andrew and George dedicated their first album, Wham Fantastic, to Andy and another friend called Paul Atkins who sadly died in a car crash.
If you have any memories to share or want some backgound info, email: Scott.
Music demo from 1982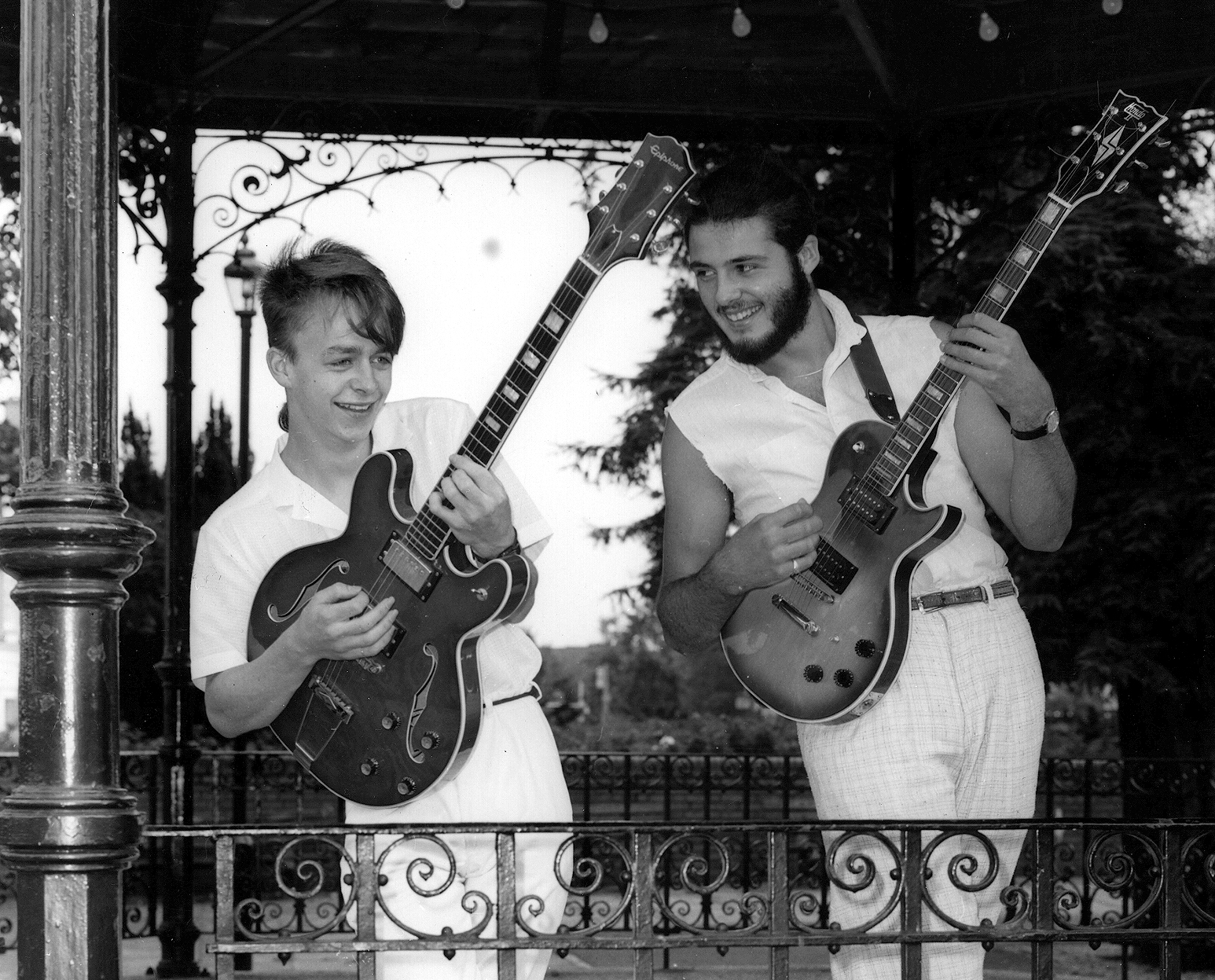 Andy pictured on the left, with a borrowed guitar. Paul pictured on the right, with Andy's original guitar.